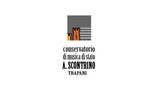 Conservatory of Music "Antonio Scontrino" - Trapani
Due to its geographical and historical position, Trapani, the city between two seas, has always been a place of welcome and integration: already the etymology of its name, from the Greek Δρέπανον, evokes a curved shape like that of an arm that welcomes and reunites. 
With this in mind and under the name of Antonio Scontrino - a musician from Trapani and of European training and career - the Conservatory is open to Europe with increasing OUT mobilities and hopefully with new applications.
Whether you are a singer or play an instrument, Trapani can offer you a good opportunity for his renowned teachers as well as for his historical and natural context. 
The Conservatory of Trapani opens its doors to international students wishing to refine their performance techniques for their preferred instrument or to sing.
COVID-19 NEWS 
The COVID-19 outbreak negatively affects ongoing or planned activities under the Erasmus+ programme but thanks to the distance learning our "outgoing" students are still studying abroad, as well as the "incoming" students.  Like other institutions, the Conservatory of Trapani, under the guidance of the director Elisa Cordova, has promptely replied to the different pedagocial needs of the students stimulating the smart working and the online lessons through different platforms. 
Between the courses, all the theoretical subjects have been disasdvantaged compared with the instrumentals. Especially the ensembles classes have faced more difficulties but through the creativity of our teachers the students are carrying on all the lessons. 
The Conservatory has also proposed on its offical web page a series of home productions named Share Your Music (#shareyoutmusictp). Students and teachers have stimulated their creativity offering different kind of performances.
Application Deadline: 1 May / 15 November