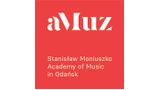 Stanisław Moniuszko Academy of Music in Gdańsk
ul. Łąkowa 1-2 80-743 Gdańsk POLAND
Stanislaw Moniuszko Academy of Music — aMuz

Youthful energy, artistic experience!

The Academy of Music in Gdansk is over 70 years old. For a long time, our academy provided its many services to an area of northern Poland. It has been a prominent segment in an important network of cultural relationships here. Today the Academy still serves a large portion of Polish citizens of the northern region (about 5 million in all) and maintains a real influence on the music culture of this part of Poland.

The Academy has produced nearly 7000 graduates so far. Amongst them, there are winners of prestigious competitions and prominent and successful artists. Our alumni obtained a great reputation in classical, early and contemporary music, musical, jazz and popular music.

The Academy, founded in 1947 as the Higher State Music School in Sopot, from the beginning had operated in very modest conditions in the scenic resort of Sopot between Gdynia and Gdansk. Since the beginning of the 21st Century the Academy operates in a new seat in Gdansk. It obtained an abandoned historic military barracks and the buildings were reconstructed and modernized to become the new location – big, modern and suitable for the purposes and the scale of the Academy's activities. The conditions in which the students can study, are already of the best in the country. Nevertheless, the further development is due to be implemented.

We play, we sing! We educate
Our Faculties & Specialities:
I / Composition, Conducting and Theory of Music

    Composition
    Conducting
    Theory of Music

II / Instrumental

    Instrumental Perfomance
    Instrumental Pedagogy

III / Vocalism and Acting

    Classical Singing
    Musical

IV / Choral Conducting, Church Music, Arts Education, Eurhythmics and Jazz

    Choral Conducting
    Music Education
    Eurhythmics
    Church Music
    Cultural management with art-therapy elements
    Jazz vocal performance
    Jazz instrumental performance
    Jazz composition and arrangement

Doctoral Studies

    Instrumental Perfomance
    Implementation of artistic choral projects

Postgraduate Studies

    Composition
    Instrumental performance
    Theory of music
    Early music


We inspire!

Nearly 200 academic teachers — out of whom 1/3 is senior staff, including titular professors — give lectures and lead inspiring classes at Stanislaw Moniuszko Academy od Music.

The teaching staff are renowned and experienced artists — instrumentalists, vocalists, composers, conductors, theorists, jazz musicians and leading actors of the Tri-Cities scene.

There are also numerous annual master classes in various areas led by an international pedagogical staff of wide renown and by outstanding performers.
Oustanding location

Stanislaw Moniuszko Academy of Music is located in a charming academic campus, only few minutes walking distance from the heart of Gdansk Old Town.

The capital of Pomerania and a port at the mouth of the river Vistula, a trading city with a thousand year old rich and sometimes dramatic history, Gdansk is widely known for its architectural monuments, especially Gothic and Renaissance. It lies on the land and sea trading routes connecting Scandinavia and northern Europe to the middle and western part of the Continent. That has resulted in wealth and cultural variety. Thanks to all that – despite the huge damage caused by World War II – Gdańsk is still a vivid maritime, economic, scientific and cultural centre, as well as a top tourist destination.

Gdańsk has over 450 thousand inhabitants. It is actually a part of a bigger city complex – the Tri-Cities – consisting also of Sopot and Gdynia. In the Tri-Cities one can find the opera, musical theatre, dramatic theatres, symphonic orchestras, ancient music ensembles, numerous museums, libraries and publishing houses. The Tri-Cities complex attracts more than 80 thousand students to all its university level institutions. It is also one of the hottest spots for Polish artistic life as well as a magic land of intellectual adventure that young people seek after.