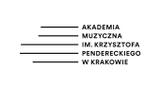 The Krzysztof Penderecki Academy of Music in Krakow
Ul. Św. Tomasza 43, 31-027 Kraków
Overview: 1st and 2nd cycle studies (bachelor's degree and master's degree), Doctoral School.

Departments: Composition, Electroacoustic Music Studio, Conducting, Music Theory and Interpretation, Music and Education Research, Choral Music, Piano, Organ, Early Music, Guitar and Harp, Violin and Viola, Cello and Double Bass, Woodwinds and Accordion, Brass, Jazz, Percussion and Contemporary Music.
Instrumental performance: Piano, Organ, Harpsichord, 

Harp, Classical Guitar, Lute, Traverse Flute, Baroque Oboe, Viola Da Gamba, Baroque Violin, Baroque Cello, 

Recorder, Natural Trumpet, Historical Piano, Violone, 

Violin, Viola, Cello, Double Bass, 

Flute, Oboe, Clarinet, Bassoon, Euphonium, 

Trumpet, Trombone, Saxophone, French Horn, Tube, 

Accordion, Percussion, 

Jazz Piano, Jazz Double Bass, Jazz Saxophone, 

Jazz Trumpet, Jazz Trombone, Jazz Drums and Percussion.

 

 

Conducting, 

Composition, 

The

ory of Music.

Music Education:

 Ensembles conducting, 

E

urythmics (Dalcroze Technique), 

Pedagogy, 

T

eaching Theoretical and Musical Subjects, 

Church Music

Vocal Studies: Opera and Oratorium, 

E

arly Music
Doctoral School: Composition and Theory of Music, Conducting, Instrumental Music, Jazz, Vocal Studies, Artistic Education in the Field of Music, Rhythmics
Postgraduate diplomas: in Instrumental Performance, in Theory of Music, in Musical Criticism, in Choral Conducting, in Culture Management, in Music Therapy
Institutes: Composition, Conducting and Music Theory, Choral Conducting, Musical Education and Dalcroze Technique, Interuniversitary Institute of Church Music.
Accommodation: https://www.amuz.krakow.pl/en/dom-studencki/