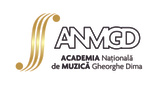 National Academy of Music "Gheorghe Dima"
25 I.C.Bratianu Street, 4000079, Cluj-Napoca, Romania
The "Gheorghe Dima" Music Academy came into being in 1919, part of a lively modernizing process involving the whole Romanian education system that was triggered by the exceptionally dynamic post-war reconstruction climate. In Cluj, however, institutionalized artistic education dates from 1819, when the Hungarian Music Conservatory was founded, where the languages of tuition was German and Hungarian. The founding of the Conservatory of Music and Theater was stepping stone for the modern phase of higher musical education in Transylvania. When the Conservatory first opened its gates, it offered the following specializations: Music Theory and Solfeggio, Harmonization, Counterpoint-Composition, Opera Singing, Piano, Violin, Violoncello, Diction and Declamation. Later on, more disciplines have been introduced, such as: Solfeggio, Contrabass, Brass and Wind Instruments (French Horn, Trombone, Trumpet, Bassoon), Theory of Musical Instruments, Theory of Musical Analysis, Music Aesthetics, History of Music, Chamber Music, Acoustics, Orchestra. In the year 1922, a department dedicated to the formal training of music teachers was established, to become a Faculty in 1933.          

Among the professors who have significantly contributed to the institution's reputation, we may name prominent personalities within the composition and performance domains, as well as standout Romanian musicologists – among whom two members of the Romanian Academy, composers Sigismund Toduţă and Cornel Ţăranu. For the first time in Romania, doctoral studies within the musical field were organized at the Conservatory in Cluj in 1971 (to be finalized with a Ph.D in Musicology), a feat which was made possible by the extraordinary contribution of aforementioned personality, Sigismund Toduţă. As a result, many of the most esteemed musicians in the country pride themselves on having been awarded the Ph. D. title in Cluj.

As a result of the political changes brought about by the events in December 1989, an opening was created within the Romanian academic milieu for significant international relations within frameworks such as the TEMPUS, ERASMUS, LIFE LONG LEARNING, DAAD or FULLBRIGHT programs. Romania's adherence to the European Union took these programs to a whole new dimension. The Academy currently has 40 partner universities, al throughout Europe.

Since 1992, when the Doctor Honoris Causa of the "Gheorghe Dima" Music Academy title was instated, it has been accepted by some of the most prominent Romanian and international cultural personalities, such as: Iannis Xenakis, György Kurtág, Krzysztof Penderecki, Yehudi Menuhin, Robert Levin, Christoph Bossert, Pascal Bentoiu, Ştefan Niculescu, David Ohanesian, Ioan Hollender, and many other acclaimed personalities, once again vouching for our Academy's high standing within the musical community.

https://www.amgd.ro/Licenta/2

https://www.amgd.ro/Master/2

https://www.amgd.ro/Doctorat/2
Course Catalogue
https://www.amgd.ro/upload/documente/Relatii_Internationale/Erasmus/Catalog%20cursuri%202019-2020.pdf

Deadlines for Erasmus Applications

Autumn semester - march 15 - april 15
Spring semester - march 15 - april 15