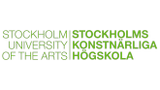 Stockholm University of the Arts
Valhallavägen 189, 115 53 Stockholm
Stockholm University of the Arts (SKH) welcomes international students to experience academic studies and student life at a university with a variety of educations within the field of art! 
SKH provides education and conducts research in the fields of circus, dance, dance pedagogy, film, media, opera, performing arts and acting. Through our pioneering educational environment and innovative research, we aim to increase the power of the arts. As a leading Arts University, we address and confront the challenges of society today. 
At SKH you will find an attractive study and work environment, in which we strive to achieve broad recruitment of students and employees. With the flourishing environment for artistic research, we have unique opportunities of deepening the study programmes and creating collaborative transdisciplinary projects. 
The University has about 500 students and 250 employees.
Application periods for exchanges within the Erasmus+ programme are:
- 15 March to 15 April 
- 15 October to 15 November
Information on available courses and programmes is announced on the SKH website HERE