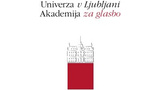 University of Ljublijana Academy of Music
Stari trg 34, 1000 Ljubljana, Slovenia
The Academy of Music Ljubljana (UL AG) is internationally known and recognized as representing the highest values of music and musical society and assuring the highest standard of music education by offering innovative individual and group programs. It is the only musical arts institute of higher education in Slovenia and an establishment of special national significance.
Academy offers a bachelor's program, master's program, and a Ph.D. program. It offers to its students two bachelor's degree programms: Musical Arts, with its 26 principal study options, and Music Education and four master's degree programms: Musical Arts (26 principal studies available), Instrumental and Vocal Education (22 principal studies), Music Theory Education (3 principal studies) and Music Education. Among the available elective courses, there are several from the fields of jazz, early music, contemporary music, and musicology.
The primary concern and objective of the Academy of Music are to achieve artistic and scientific excellence. By collaborating with leading national institutions from the field of music (such as National Theatre Orchestras of Ljubljana and Maribor, the Slovenian Philharmonics, the National Radio and Television Orchestra, the Police and Army Orchestras, and the Slovenian Chamber Music Theatre among others) and striving for strong international integration, the Academy of Music offers numerous possibilities for the professional experience and personal development of its students.
Academy students benefit directly by engaging in creative learning and participation while performing on stage.  Arranging more than 150 local and international concerts per year, the Ljubljana Academy of Music is one of the largest organizers, and centers of learning, offering musical production synergy with their local or national music institutions. The UL AG organizes five-concert series (Subscription, Chamber Music, Soloist and Contemporary and Early Music Concert Series) and opera projects. Each year its students have won more than a hundred awards at international and national competitions. In recent years, the Academy's symphony orchestra has established its reputation as one of the best European orchestras of its kind. The productions of several operas have received wide acclaim from the public and critics alike, and the Academy's Big Band has very successfully toured some European countries.

UL AG promotes music performance and composition, as these are immediately connected with music education. In collaboration with other members of the University of Ljubljana, the UL AG conducts and develops research activity in the fields of humanities and social sciences, Interdisciplinary Ph.D. in Humanities and Social Sciences programs is a joint programme offered by the UL Faculty of Social Sciences and the Faculty of Arts in collaboration with the UL Academy of Music, the Faculty of Mathematics and Physics, the Faculty of Computer and Information Science, and the Faculty of Theology. The Academy's research group joins the scientists and researchers who deal with research questions in the fields of subject-related teaching methods, musicology; music theory, composition, and the performance of music. Its aim is to create new knowledge and produce new works of art, which can be directly translated into classroom practice, which can enrich the music and cultural life of the general population on the national scale or which can be used to represent the country`s research activity abroad.

10% of the regularly enrolled students at the Ljubljana Academy of Music are international students. Together with their Slovenian colleagues, approximately 450, and approximately 20 Erasmus or bilateral exchange students, they form a very motivated and healthy competitive international environment.