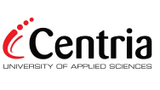 Centria University of Applied Sciences
Talonpojankatu 2, 67100, Kokkola, Finland
Overview
Centria University of Applied Sciences is a multidisciplinary, dynamic and international higher education institution. Centria has 2,900 students and we are located in Western Finland, in three towns: Kokkola, Ylivieska. and Pietarsaari. The Music Program is located in Kokkola.
We offer students a wide choice of educational opportunities, practically oriented teaching methods, and good connections to the professional world. The study environment is innovative, caring and multicultural with students from all around the world.
Centria offers 23 degree programmes in five different fields of study. Our fields of study are:
• Technology
• Business Management
• Health Care and Social Services
• Music Education
• Humanities and Education
Incoming exchange students in Music can take classes in their instrument as well as classes in Music theory and ensembe playing.
Expenses
There is no tuition fee for exchange students. The cost of living in Finland is on average comparable to the rest of Europe.
Basically, for expenses such as rent, food and personal costs, you will need approximately 560 Euros per month, that is 12 x 560 = 6 720 Euros for ONE year.
DETAILS/ per month
Rent
200 - 300 Euros
Food
Student lunch
120 - 170 Euros
1,30 Euros
Books, equipment and materials
50 Euros
Leisure, other personal costs
85 - 150 Euros
Total
435- 650 Euros
Please note that this doesn't include your travel from your home country nor any private travel in Finland. To these costs, you can also add the purchase of a second hand bicycle (around 100 Euros), the purchase of bed clothing, curtains and kitchen equipment for your apartment.
Accommodation
Centria reserves rooms for exchange students in student accomodation (Tankkari). Please inform the International coordinator (incoming).
The apartments have single rooms with shared kitchens and bathrooms. Please remember that the security deposit must be paid before signing the rental agreement. The deposit must be paid in an international bank. IBAN = International Bank Account Number.
Deadline 1 June / 15 November