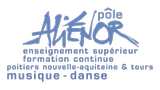 Pôle Aliénor
10 Rue De La Tête Noire, BP 30015, 86001 Poitiers Cedex, France
The pôle Aliénor is a Higher Education Institution, partner of the Universities of Poitiers and Tours and of the Abbaye aux Dames de Saintes (Jeune orchestre de l'Abbaye aux Dames).
The pôle Aliénor accepts applications from all institutions. A new partnership will be established in case of acceptance of a student. If your institution is not a partner yet, please ask us to open the possibility to apply: c.michon@polealienor.eu
The city of POITIERS, settled in the North of the Région Nouvelle Aquitaine, is connected with big European major cities (Paris, Bordeaux, Brussel, London…) by the TGV.
Poitiers (90 000 inhabitants + 28 000 students) has a rich 2 000 years old history, and presents a prestigious architectural patrimony. The University (founded in 1431) is one of the oldest in Europe; the presence of so many students promotes a very creative and diversified cultural life. 
Poitiers, a major city without the disadvantages!
Since September 2015, the departments for brass instruments and percussion are settled in the city of Tours, at 100 km North from Poitiers (1 hour by train).
Course catalogue: http://www.polealienor.eu/sites/default/files/cesmd/pdf/190222_erasmus_course_catalogue.pdf
Living expenses: ± € 800 / month (housing, food, bus, miscellaneous)