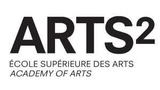 ARTS² - Academy of Arts
Rue de Nimy, 7 7000 Mons BE - Belgium
ARTS² is an Academy of Arts (Bachelor's and Master's degree) depending directly from the Ministry of College Education of Belgium's French Community. The size of the school (about 650 students) allowed it to keep a particularly warm atmosphere yet it is part of a large and prestigious college education community (universities and College Universities) within the Pôle Hainuyer, thus offering numerous advantages to its students.
ARTS²'s mission is to train interpretive and creative artists in its three fields of expertise:
> Visuals arts
> Music
> Theatre
A didactic training is also available (Didactic Master's Degree and Aggregation of Secondary School Teaching).
Here are its two fundamental principles :
• Acquiring the mastering of the techniques, the intellectual knowledge, and the knowhow and knowbe related to the chosen domain/the domain chosen by the student;
• Event artistic practice embedding the training programme in a continuous way by means of projects related to the cultural world/sphere.
Combining these principles on a daily basis helps the future graduates to professionally insert in society as responsible artists. ARTS² offers open studies which are open to the world and impregnated, according to the chosen domain or options, with today's artistic currents/trends, new technologies or the most solid traditions.