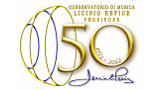 Conservatoire of Music Licinio Refice - Frosinone
Viale Michelangelo, 03100, Frosinone, Italy
The Licinio Refice Conservatory of Music , founded in 1972, is one of the leading Italian conservatories with its 139 teachers and 800 students.
It offers courses related to all orchestral instruments, organ, piano, harpsichord, accordion, singing, composition, conducting, wind orchestra instrumentation, as well as music education, jazz music, popular music and electronic music . It is also possible to choose training courses ranging from "Ancient Music" to "Modern Music and for the Performing Arts", to Music in relation to New Technologies .
Among the professors are prestigious personalities in the field of performance and research, with experience from classical to jazz and everyday music.
The production activities have made the Frosinone Conservatory one of the main cultural centers of the area; carries out an intense artistic and cultural activity not only aimed at improving the educational offer for its students but also open to the outside world to qualify the cultural offer of the entire territory. It is divided into concert seasons, concert lessons, conferences with the participation of teachers and students, but also of former students and established musicians.
The recording studio was inaugurated in 2009. In 2016 the Auditorium named after the founder of the Conservatory, M° Daniele Paris was inaugurated.
The Conservatory, through the prestigious CREA (Audiovisual Processing Research Center) has been realizing for some time now intermedia-type projects that merge the use of music with poetry, the visual arts and new technologies.
It is a Conservatory not strictly limited to the world of music, but a center of cultural elaboration, of initiatives and events oriented towards a new way of thinking and experiencing art, with the necessary attention to everything that changes in the world, not only in the strictly aesthetic field.
The result is a rich and careful educational offer to remodel itself on contemporary society in order to preserve but also innovate and provide its students with tools for full self-realization and their professionalism.