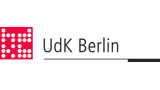 Berlin University of Arts
Einsteinufer 43, 10587, Berlin, Germany
Berlin University of the Arts is one of the largest and most diversified universities of the arts in the world. The teaching offered mostly in traditional formats in the four colleges of Fine Arts, Architecture, Media and Design, Music and Performing Arts as well as at the Central Institute for Continued Education/ Berlin Career College encompasses the full spectrum of the arts and related academic studies in more than 70 courses. With the right to confer doctorates and post-doctoral qualifications, Berlin University of the Arts is also one of the few art colleges in Germany with full university status. Teachers in art and music are also educated at Berlin University of the Arts, the only university in Berlin and Brandenburg where these subjects can be studied.
Courses of study open for exchange
Classical instrumental studies:
Violin, Viola, Cello, Double Bass, Guitar

Flute, Oboe, Bassoon, Saxophone, Horn, Trumpet, Trombone,

Drums, Timpani, Recorder, Piano, Harpsichord, Organ/Church Music

Other courses of study:

Composition
Sound Engineering
Voice
Jazz Institute Berlin (only Bachelor of Arts):

Electric Bass, Clarinet, Double Bass, Drumkit/Percussion, Flute, Guitar/Electric Guitar, Piano/Keyboards/Synthesiser, Saxophone, Trombone, Trumpet, Vibraphone/Marimba, Violin, Vocals
Inter-University Centre for Dance (HZT):
"Dance, Context, Choreography" (Bachelor of Arts), "Solo/ Dance/ Authorship" (Master of Arts)

Terms
Winter Semester: mid October to mid February (16 weeks)

Summer Semester: mid April to mid July (14 weeks)

Expenses
All students, including exchange students, are obliged to buy the semester ticket (about 200 Euro, entitling you to use public transport within Berlin and surroundings for free) plus the contribution for the student welfare organisation and the student representation, all in all about 260 Euro.
Accommodation
There is a limited number of rooms in the student residence available.