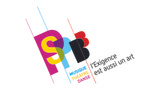 Pôle supérieur d'enseignement artistique of Paris Boulogne-Billancourt
14, Rue De Madrid, 75008, Paris, France
Click here to edit the institution's profile..
Overview
PBB is a public higher education institution established at the initiative and with the support of the French Ministry of Culture, the city of Paris, and the city of Boulogne- Billancourt, which is now part of the Grand Paris Seine Ouest (GPSO) Urban Community.

Offering some of the finest educational opportunities in the performing arts
in France in Music, Danse and Theater, PSPBB works in close collaboration with:
The Regional Conservatory of Paris (CRR)
The Regional Conservatory of Boulogne-Billancourt (CRR)
The Issy-Vanves Conservatory
The Didier Lockwood Music Center (CMDL)

PSPBB benefits from academic partnerships with:
The University Sorbonne Nouvelle
The University Sorbonne Université
The University of Paris 8 – Saint-Denis
The Gustave Eiffel University – Paris East – Marne-la-Vallée
The University of Evry

THREE PRIORITIES HAVE SHAPED THE PSPBB CURRICULUM:

ARTISTIC, EDUCATIONAL, AND CULTURAL EXCELLENCEAND EXIGENCY
Over 220 renowned teachers and guest instructors ensure the quality, prestige, and diversity of the educational opportunities at PSPBB.

PROFESSIONAL INTEGRATION
To promote optimum professional integration
for its students, the training offered at PSPBB has been developed with the needs of the professional world
in mind.
•    Professional integration aid for recent graduates (ESAD and PSPBB employability funds)
•    Aid in building a professional network
•    Personalized career plan support
•    Ongoing support after job placement
•    Immersion in the professional world (workshops, round tables, theme-based encounters adapted to the reality of the professional artistic sector)
•    Professional performance situations (shows, concerts, recitals, and public exams in prestigious venues)
•    Mandatory internships
•    Participation of many professionals in master classes and audition juries.

INTERNATIONAL EDUCATIONAL OPPORTUNITIES :

PSPBB is a signatory to the Erasmus Charter.
In order to strengthen students' potential in terms of employability, PSPBB has chosen to reinforce its educational offer through strategic partnerships with prestigious international establishments (58 partnerships with higher education institutions of excellence in 23 countries within and outside of Europe).


Expenses
Accommodation