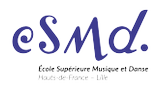 École Supérieure Musique et Danse Hauts-de-France - Lille
Rue Alphonse Colas, 59000 Lille, France
https://www.esmd.fr/
The ESMD can accept Erasmus students studying music at a bachelor level only for

Strings: Violin (Fernand Iaciu, Sandrine Naudy, Ayako Tanaka); Viola (Juliette Danel); Cello (Guillaume Lafeuille, Jean-Christophe Lannoy); Double bass (Mathieu Petit)

Woodwinds: Flute (Joséphine Poncelin; Oboe (Baptiste Gibier); Clarinet and Bass clarinet ( Alain Billard, Christian Gossart, Éric Perrier); Fagott (Jean-Nicolas Hoebeke); Saxophone (Yves Tanguy)

Brass: French Horn (Jimmy Charitas); Trumpet (Laurent Bourdon, Pierre Perpète); Trombone (Christian Bogaert); Tuba (Gabriel Capet)

Keyboards: Piano (Jean-François Boyer, Philippe Canesse, Jean-Michel Dayez); Piano accompaniment (Christophe Simonet)

Polyphonic instruments: Guitar (Judicaël Perroy, Carlo Marchione); Harp (Anne Le Roy);  Accordion (Mélanie Brégant) ; Percussion (Jean-Claude Gengembre)
Pop and Jazz: Benjamin Collier, Charles Duytschaever, Frédéric Favarel, Ludovic Fiers, Christophe Hache, Pascal Lovergne, Jérémie Ternoy ... Please note that we will accept no jazz incoming mobilities for 23-24.

A LETTER FROM OUR PRESIDENT, Jean-Claude Casadesus

When I founded and then directed the Orchestre National de Lille 40 years ago, it was with an ambition that has not left me since: to celebrate and share a passion for music with the most privileged and more destitute, with the desire to carry this ambition wherever it might be welcomed.
This artistic transmission, which I believe to be a civil duty, has become, I am delighted to say, one of the main objectives of this new generation.
L'École Supérieure Musique et Danse Hauts-de-France - Lille is a wonderful example of this transmission. Their transmission of artistic knowledge is one of the reasons why I joyfully and enthusiastically agreed to be president of this institution as of January 1, 2016.
All of these young artists who are passionate about playing music and dancing, will have it in their hearts, no doubt, to transmit this passion in turn. They are the generation of tomorrow. Their training encourages them to question their art and to always think about the need to be better each and every day. By performing and teaching now, these students participate with all their artistic faith in the development of an irreplaceable social bond, woven by their shared emotion. It is, by the grace of their art, for the benefit of everyone without exclusion.
Yes! As Nietzsche said, "Life without music would be a mistake," and I will allow myself to add "and without dance," which is the music of the body.
To all, my warmest wishes for the success of your ideas.
Jean-Claude Casadesus, President of the ESMD