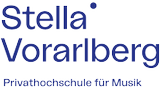 Stella Vorarlberg Privathochschule für Musik GmbH
Reichenfeldgasse 9 6800 Feldkirch Austria
Welcome to Stella Vorarlberg Private Musikhochschule

The further development of the Vorarlberger Landes­konserva­torium into the Stella Vorarlberg Privathochschule für Musik has been successfully completed. Stella started the winter semester 22/23 with two innovative Bachelor's and Master's degree programmes:
BA_

Music Education & Music Performance

BA_

Music Performance

MA_

Music Education & Music Performance

MA_

Music Performance & Career Development
Our goal is to give our students the best possible foundation for going on to varied and attractive careers. As a higher education institution, we want to have an impact at every level of society in the Lake Constance region and beyond. Stella will increase the value of the higher education landscape of Vorarlberg significantly.

Here, in the heart of Europe, cultural excellence meets a high quality of life.

Stella is the first private university college in Austria. It is sponsored by the State of Vorarlberg. Tuition fees will not change.

Tuition fees:
270 Euro per semester (BA and MA study programmes) for EU citizens
590 Euro per semester (BA and MA study programmes) for non-EU citizens
For further information, please contact the International Office at Stella:

Email: international@stella-musikhochschule.ac.at
T +43 5522 71110 23