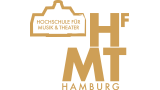 Hochschule für Musik und Theater Hamburg
Harvestehuder Weg 12 20148 Hamburg Germany
Overview: https://www.hfmt-hamburg.de/start
Application: exclusively via EASY
    Deadline for coming winter term: 1. May
    Deadline for summer term:          1. December

Study Plan: see information at the bottom of this profile

Admittance:

is based on the qualitiy of audition performance recordings uploaded in EASY and on available study places for the chosen programme.
All exchanges applications will be individually reviewed, at the same time as new degree applications.

The decision can therefore take up to 2 months, depending on the number of applications vs. available capacities.

Academic Calendar:
    winter term: 1.10. – 31.3. (lecture free period starts mid February)
    summer term: 1.4. – 30.9. (lecture free period starts mid july)

Expenses:
Semester Contribution: 331,90€/semester. A public transport ticket for the entire Hamburg Metropolitan Area is inculded
Health Insurance: a health insurance plan accepted by German authorities is mandatory. For students not covered by an EHIC or AT/11 a german health insurance plan will cost about 100€/month
General living expenses run at 400 - 600€/month
Average cost for a shared room in a flat in the vicinity of HfMT is between 400 - 800€/month; a room in a student dormitory costs about 350€month.

Accommodation: 

HfMT runs no students dormitory of its own. It is however possible to apply to student dormitories we cooperate with. We will provide the application forms once an exchange student is accepted 
Study plan:

In order to assemble your study plan you can find detailed course information on all

music/instruments studies programmes: https://www.hfmt-hamburg.de/musik/
theatre/drama/opera studies programmes: https://www.hfmt-hamburg.de/theater/
peadagogics and science studies programmes: https://www.hfmt-hamburg.de/paedagogik-und-wissenschaft/
culture and media management studies programmes: https://www.hfmt-hamburg.de/kultur-und-medienmanagement/
The course list of the current semester also can give an indication of what's possible:
https://www.hfmt-hamburg.de/studieren/vorlesungsverzeichnis/