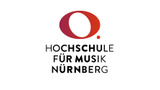 Hochschule für Musik Nürnberg
Veilhofstr. 34 90489 Nürnberg
We invite you to meet tradition and innovation

The Hochschule für Musik Nürnberg (Nuremberg University of Music) is the third State University of Music in Bavaria and was established in 2008. However, its tradition goes back to the early 19th century, when the first singing school was founded in 1821 from which afterwards the Nuremberg Meistersinger Conservatory was established.

Today, around 450 students are trained in musical performance and music education in Nuremberg. Bavarian's second city shows along to a large and significant history a charming architecture with its nearly intact medieval wall.

First-class courses are offered in all orchestra instruments, but also in singing, piano, organ, guitar, accordion and classical saxophone. There is also a lively jazz department, which is thoroughly integrated in the clubs of the city, and a department of early music, which regularly attracts unusual events to Nuremberg, thanks to its links throughout Europe.


We offer high qualification and career guidance

We consider the high quality of artistic training as important as your personal career.
Along to the academic courses you can gain extra key qualifications that enable you to cope with all future employment opportunities.
You can find our academic offer here: https://www.hfm-nuernberg.de/studium-und-lehre/studiengaenge/
For any questions please don´t hesitate to contact our international office.


APPLICATION
Applying and Admissions for Exchange Students

Interested students have to submit an application to the Nuremberg University of Music via EASY https://aec.dreamapply.com/applicant/register  in order to get the chance to study as an exchange student at our institution.
But first contact your home institution, because they have to agree with your application and nominate you.

Required application materials:
•    Completed application form in EASY
•    Completed and in case of acceptance a signed learning agreement before your mobility starts at       our institution through OLA
•    Recording time approx. 15-20 minutes via YouTube, WeTransfer, etc.
•    Transcript of records (recommended)
•    Letter of motivation (recommended)
•    Reference letter from teacher in your primary discipline (recommended)
Application deadline:
15 April for the following winter semester or the entire academic year
1 November for the following summer semester

After your application has been processed, you will receive notification of our decision through EASY.
The admissions decision can take several weeks.


International Office
Mrs. Erdei
dorothea.erdei@hfm-nuernberg.de
Tel.: 0911/215 22-151
Fax: 0911/215 22-1 67