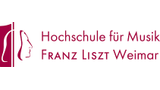 University of Music Franz Liszt Weimar
Platz der Demokratie 2/3 99423 Weimar Germany
This institution does not accept applications via EASY!
Apply by sending an application via email. Find out more here
Deadlines for applications during the Academic Year:
For study abroad up to two terms at a partner university with ERASMUS one has to apply to the International Office by the 31 January for the following academic year. One must fill out the available forms. Applications can also be made later during the academic year since there might be study places available at the partner universities and a stay can also be organized at short notice. However, this cannot be guaranteed.