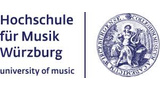 University of Music Wuerzburg
Hofstallstraße 6-8, D-97070 Würzburg
In 1804 the University of Music Würzburg 
became associated with the University as an 
Academic Music Institute and then in 1814 was 
named the independent Royal Music Institute. 
Since the change of status from Conservatory 
to Arts University in 1973, and in particular 
since the academic reform over the past 10 
years, further decisive change has taken 
place. 700 students are prepared for artistic 
and artistic-pedagogical careers through 
Bachelor and Master's Degree Programs, 
as well as for civil service positions as school 
music teachers. Furthermore, there are 
curricula offerings in the so-called third cycle 
(Doctoral Degrees and Meisterklasse). 
Since the fusion with the Zilcher Conservatory, 
Jazz and Elementary Music Pedagogy have 
been offered, and recently a professorship for 
Popular Music was established. 
The University of Music Würzburg offers 
education and training on a high artistic, 
artistic-pedagogical and academic level, with 
the goal of providing students successful entry 
into a career field and to enable an active and 
responsible organization of music-cultural 
life. With this objective, the University of Music 
finds itself at the crossroads of tradition and 
innovation in coming to terms with the 
dynamic career possibilities associated with 
current societal and cultural changes and in 
developing corresponding teaching and learning 
opportunities. This includes the development 
of individual artistic-musical excellence 
with intensive personal development through 
engaged instructors, as well as the creation of 
extensive artistic-pedagogical qualifications 
and academic competence through teaching and learning opportunities. 
Musicology and Music Theory have an 
established place in all courses of study. 
Academic research is pursued both in 
final projects (diploma theses for School 
Music Teachers, Bachelor's and Master's 
theses, Doctoral dissertation), as well as in 
externally funded projects. In the latter 
case, interested students can work as paid 
assistants. Through cooperation with the 
University of Würzburg, as well as with 
the University of Applied Sciences Würzburg- 
Schweinfurt (FHWS), students of the 
University of Music have access to many 
further educational offerings and resources. 
INTERNATIONAL, OPEN TO THE WORLD 
AND ANCHORED IN THE REGION 
Around 250 faculty from around the world, 
including numerous world famous artists, 
provide instruction for over 700 students. 
The fact that approximately a fourth of them 
come from other countries has a reason. 
It is precisely the top-notch support in the 
Master's Degree and Meisterklasse courses of 
study which makes the University attractive 
for these next generation foreign musicians. 
On the other hand, ever more students are 
studying for a semester at another European 
or non-European partner university. Our University 
has established numerous cooperative 
relationships in the region and is one 
of the most important bearers of culture in Franconia.