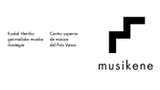 Musikene. Higher school of music of the Basque Country
Plaza Europa, 2. 20018 Donostia-San Sebastián
Musikene, the Basque Country's International Conservatoire of Music, located in Donostia-San Sebastián, was created in June 2001 by the Department of Education, Universities and Research of the Basque Government for the purpose of imparting Higher education in music. Musikene was conceived with a special legal structure which bestows upon a status similar to that of universities.
The emphasis of Musikene is to provide high quality education leading to professional qualification in the areas of performance, creation, conducting and teaching. Its main aim is to equip students with the practical skills and training necessary to enhance the future employment prospects, whilst keeping in touch with the new requirements of the 21st century.
For this reason, Musikene has taken great care in its selection of personnel. The faculty members enrich their teaching with active careers and experiences in performance (solo, orchestra or chamber music) creation, conducting or research activities. Thus, they are experts in their specific fields of study and highly regarded professionals. Musikene's faculty is made up of 168 permanent teachers of 15 different nationalities.
The Musikene curriculum combines specific subjects for each area of specialization with others of a more theoretical and humanistic nature to ensure students receive a holistic approach to their higher education studies. Moreover, the school organises a large number of masterclasses led by highly qualified guest tutors.

International outreach
Musikene has consolidated ties with organizations that generate or promote musical and cultural activities for primary purpose of providing employment opportunities for its students. Examples include agreements signed with professional orchestras and renowed music festivals such us the San Sebastian Classical Music Festival-Quincena Musical, Jazzaldia or Festivals of Contemporary music among others. Just as Universities, Research or Creation centers.
As part of its cultural outreach, Musikene is always open to demands and interests that emerge from the social and cultural environment. Consequently the conservatoire promotes the work of its students, whether concerts or compositions and research and social projects.

Interinstitutional agreements
From 2012 to this moment, we have signed more than 40 agreements with public entities, professionals from the cultural, educational and musical sectors, management entities and private entities.
More information: www.musikene.eus