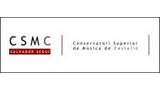 Conservatori Superior de Música "Salvador Seguí" de Castelló
C/ Marqués de la Ensenada 34-36 12003 Castelló de la Plana
Overview
In Castellón, everything is nearby. In our city, the smell of oranges still surrounds the city streets and the orchards are still present in the settlement. Castellón is the capital city of la Plana Alta and stills preserves the quiet and friendly character of working environments. The urban has around 180.000 inhabitants and it is possible to distinguish between the historic center, the new neighborhoods, and the maritime district known as el Grao or the port.

The climate is generally excellent that is always an advantage. In the city center the cultural and commercial life – completely Mediterranean – allows seeing a joyful and lively city. The historic center which still conserves the shape of a Roman camp houses the city's emblematic monuments.

Conservatori Superior de Música "Salvador Seguí" de Castelló (CSMC) welcomes students from all European Union and abroad. We offer First Cycle (BA) and Second Cycle (Master). Our studies are organized in four main specialties:

1. Interpretation (including Symphony Orchestra Instruments, Piano, and Guitar)
2. Composition
3. Music Pedagogy
4. Ancient Music

Expenses
Average costs for a shared room in a flat in the nearby of the Conservatory is between 150-200€/month.

Accommodation
Unfortunately, the Conservatory has no students dormitory. Usually, the students rent and share flats in the nearby of the Conservatory.

Castelló is an easy, small city you will not have problems to get a room. For example, you can seek here: https://erasmusu.com/es/erasmus-castellon-de-la-plana/alquiler-habitaciones-estudiantes