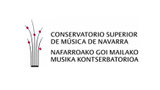 Conservatorio Superior de Música de Navarra
Paseo Antonio Pérez Goyena 1, 31008, Pamplona, Navarra
Click here to edit the institution's profile..
Overview
The "Conservatorio Superior de Música de Navarra" is a public Higher Education Institution located in the "City of Music" of Pamplona. The CSMN offers Bachelor's programmes in Performance (Classical and Jazz), Musicology, Music Education and Composition. The study plans are structured in 4 year-courses. All our courses are annual, but you can apply for a semester.
Accommodation
Usually the students rent and share flats in the nearby of the Conservatory. The Erasmus Office can help contacting students to share a flat. Average costs for a shared room in a flat is between 200-250€/month.