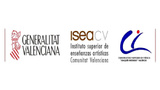 Conservatori Superior de Música "Joaquín Rodrigo" de Valencia
C/ Cineasta R. Muñoz Suay, s/n 46013 Valencia (Spain)
Click here to edit the institution's profile..
- Overview
VALENCIA is one of the most vibrant and exciting cities in Spain. Not overcrowded, its population being around 750.000 inhabitants, it offers a rich cultural and musical environment. Valencia hosts two of the highest rated Spanish professional symphony orchestras, Orquestra de Valencia and Orquestra de Les Arts-Comunitat Valenciana. They have beautiful sounding halls, the Palau de la Música and the Palau de Les Arts, and offer the city a wide range of possibilities among symphonic, chamber music and operatic fields. 
Conservatori Superior de Música "Joaquín Rodrigo" de València (CSMV) welcomes students from all European Union and abroad. If you are a student enrolled in a European conservatory which forms part of the Erasmus Program, you are then eligible to participate in one semester or a full academic year exchange with us. We offer First Cycle (BA) and Second Cycle (Master). Our studies are organized in six main specialties:
1. Interpretation (including Singing, Symphony Orchestra Instruments, Harp, Piano, Harpsichord and Guitar) and Jazz (with the specialties of Piano, Saxo, Guitar, Double bass, Trumpet, Trombone and Drums) 
2. Composition
3. Conducting
4. Music Pedagogy
5. Musicology
6. Computer and Electronic Music (new, from 2015/16)
We operate the European Credit Transfer System (ECTS) which enables all exchange students to achieve the same graded credits they would get at their home institutions, under satisfactory completion of all of the requirements. 

- Expenses
Here is a list of approximate prizes' items you might find in Valencia:
. A loaf of bread: from 0.40€ to 0.80€, depending on the place
. Litre of milk: 0.80€
. Coffee in a bar: 0.80€ to 1.40€
. Soft drink or beer in a bar: 1 to 1.50€
. Sandwich in a bar: 2€ to 3.50€
. Set meal in a normal restaurant ("menú del día"): 8 to 12€
. Set meal in a fast food restaurant: 6.50€
. Round trip high-speed train Valencia-Barcelona (3 hours): 50 to 80€ (with cheaper special offers)
. Round trip high-speed train Valencia-Madrid: (1,30h): 70 to 120€ € (with cheaper special offers)
. Litre of petrol: 1.00€ "diesel", 1.20€ "gasolina"
. Newspaper: 1.30€
. Museum ticket with student discount: 3€
. Cinema ticket with student discount: 5.50€
. Film rental: 3.50€
. Internet connection: some 30€/month
 "Mercadona" and "Consum" are the most popular supermarkets, found in every neighbourhood
- Accommodation
You will have to look for accommodation by yourself. Most of the former exchange students coming to CSMV in past years have rented a room, sharing apartment with other student colleagues, with excellent results. That might be the cheapest and more convenient option. The following are useful links to find a room in a shared apartment:
http://www.universalstudents.es/Shared-flats-Valencia?gclid=COLUnvD33LsCFdOWtAodIVoADg 
http://www.flatmatestudent.com/es/ 
http://www.aluni.net/accommodation-in-apartments/for-students/renting-rooms-in-shared-apartments 
http://www.erasmus-valencia.com/es-buscar-search.htm 
You might expect an average rental prize between 150 € and 300 € per month, usually with electricity, gas, water and Internet included.  
Universitat de València has its own student residences. You may contact them, despite the fact their own students have preference, and that prices are possibily higher. 
http://www.uv.es/uvweb/college/en/international-relations/international-relations/erasmus-study-programme/incoming/accommodation-1285847248050.html 
It might be a good idea arriving to Valencia several days before classes begin and look in situ. Surroundings of the Conservatory could be a good election, as it's a relatively quiet neighborhood and you don't have to bother taking public transportation.