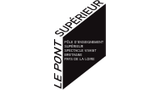 Le Pont Superieur - Pôle d'Enseignement Supérieur Spectacle Vivant - Bretagne Pays de la Loire - Musique / Danse
4bis Rue Gaëtan Rondeau, 44200 Nantes, France place Jean Normand, 35200 Rennes, France
Public establishment of cultural cooperation bringing together the Ministry of Culture and Communication, the Brittany and Pays de la Loire Regions, Brest Métropole, the cities of Nantes, Rennes and Angers, the Universities of Nantes, Rennes 2 and Angers.

Établissement public de coopération Culturelle réunissant le Ministère de la Culture et de la Communication, les Régions Bretagne et Pays de la Loire, Brest Métropole, les villes de Nantes, Rennes et Angers, les Universités de Nantes, Rennes 2 et Angers.

Higher education school - Erasmus + labeled and accredited by the Ministry of Culture - Le Pont Supérieur is part of the network of 99 institutions of Higher Education Culture which welcomes more than 36,000 students (architecture and landscape, plastic arts, entertainment living, cinema / audiovisual and multimedia, heritage) including 3,400 in dance and music.

IN THE MUSIC DEPARTMENT in RENNES :
The establishment welcomes in higher education musicians of contemporary music, traditional music from Breton and Celtic cultural areas, instrumentalists / singers from classical to contemporary repertoires. Le Pont Supérieur opened in 2018, with the University of Western Brittany (UBO), a unique Master in France in "Performing Arts and Performing Arts, Specialist in Traditional Music" co-accredited by the Ministry of Culture and the of Higher Education, Research and Innovation.
For Bachelor there are 4 specialties : 

- TRADITIONAL MUSIC (BRETON CULTURAL AREAS AND CELTIC COUNTRIES) :Instrumentalist and / or singer
- INSTRUMENTISTS, SINGERS AND SINGERS AMPLIFIED CURRENT MUSIC
- INSTRUMENTISTS - CLASSICAL TO CONTEMPORARY MUSIC 
- LYRIC SINGERS AND SINGERS


To prepare the study plan, the ECTS catalogue is available on the web site of Le Pont Supérieur :
https://lepontsuperieur.eu/wp-content/uploads/2021/03/DNSPM-MAQUETTE-ECTS-20-21.pdf


IMPORTANT : At the moment, we only receive mobilities for one semester and not for the whole academic year. 
Expenses

Average costs for a shared room in a flat in the nearby of the Conservatory is between 300-400€/month.
Accommodation

Unfortunately, the Pont Supérieur has no students dormitory. Nevertheless is possible to apply to other students dormitories in the city if you apply months before arrival. In France, the institution that organize students housing is called CROUS. 
Students can also shared a flat with other students. French website named Le Bon Coin groups rental adds.