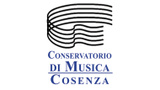 Conservatory of Music "Stanislao Giacomantonio" - Cosenza
Via Portapiana, snc 87100 - Cosenza - Italy
Following the Lisbon Strategy, the Cosenza Conservatoire of Music is culturally vibrant, full of ideas, international, and able to provide students with infinite opportunities of experiences which are humanly, intellectually and artistically qualifying.
The Cosenza Conservatoire of Music, founded in 1970, is an AFAM (Higher Education in Art and Music) public institution and is part of the Ministry of Education, University and Research.
Under the art. 33 of the Constitution it is an Institution of Higher Education. 
Based on the 1999 law it is the primary seat of Higher Education, Specialization, Research and Music Production.
The Music Conservatoire issues First and Second Level Academic Diplomas, Specialization Diplomas, Research Training Diplomas, Master and Music Teaching Qualifications for primary and secondary schools.